Perrigo Community Park - Perrigo Park Restoration Work …01/29/2022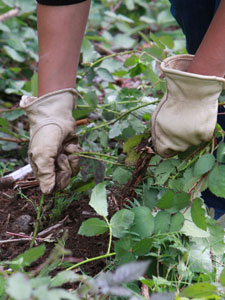 Activities
Let's get outdoors and make sure our plants have lots of room to grow, free of blackberries and invasives. Make sure all volunteers (including children) are registered in the system. Due to safety measures we are not able to exceed our outdoor event size limits. We'll be doing our best to space out. sanitize, and follow City/Council health and safety guidance.
Open to the public
All ages OK
25 out of 20 volunteers registered.
What to Bring
Come dressed for the weather (rain or shine) in clothes you don't mind getting dirty. Wear sturdy closed-toe shoes (rubber boots, hiking shoes or boots), long sleeves, long pants, warm layers and raincoat.
Garden gloves.
Remember blackberries are very thorny!
Where to Meet
Perrigo Park near the Red Barn
Where to Park
Parking lot next to the red barn