Hartman Community Park - COVID SAFE: Hartman Blackberry …11/14/2021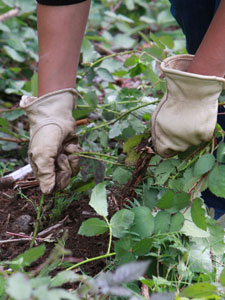 Activities
Kick up some leaves, tighten our masks, and get into the forest! Let's make sure our baby tree planting saplings have lots of room to grow, free of blackberries and invasives. Make sure all volunteers (including children) are registered in the system. Due to safety measures we are not able to exceed our outdoor event size limits. We'll be doing our best to space out. sanitize, and follow City/Council health and safety guidance.
Open to the public
All ages OK
29 out of 30 volunteers registered.
What to Bring
Come dressed for the weather (rain or shine) in clothes you don't mind getting dirty. Wear sturdy closed-toe shoes (rubber boots, hiking shoes or boots), long sleeves, long pants, warm layers and raincoat. Leather groves provided or bring your own (blackberries have thorns). Water bottles and snacks will be on hand. Non-blackberry tasks also available.
Where to Meet
Between the bathrooms and soccer field.
Where to Park
Either parking lots, then hike on over to the center bathrooms beside the soccer fields.
Date & Time
November 14, 2021 9:30am - 12pm
Contact
Rachel Molloy
rachopatch@gmail.com
Rheya: 206-931-7052 (text day-of if you get lost)
Extra Info
View
Site Map