Hartman Community Park - COVID SAFE: Hartman Blackberry …05/29/2021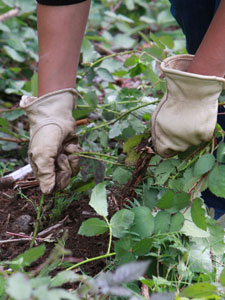 This event is full (registration closed)
Activities
Time to roll up our sleeves, tighten our masks, and get back into the forest! Join a small crew of MAX 5 VOLUNTEERS as we make sure new tree planting saplings have lots of room to grow, free of blackberries. Make sure all volunteers (including children) are registered in the system, and do not bring others if they are unregistered. Due to safety measures we are not able to exceed our outdoor event size limits. Come dressed for the weather (rain or shine) in clothes you don't mind getting dirty. Wear sturdy closed-toe shoes (rubber boots, hiking shoes or boots), long sleeves, long pants, warm layers and raincoat (blackberries have thorns).
Open to the public
All ages OK
5 out of 5 volunteers registered.
COVID Guidelines
Before attending this event, please watch our COVID-19 Volunteer Event Safety Video - GreenSeattle.org/COVIDvideo

Arrive wearing your cloth face covering. You will be expected to keep it on through the entire event. If you forget a mask, extras will be available. Unfortunately, we are unable to provide water and snacks during our events. Please come prepared with your own water bottle and food. You are welcome to bring your own hand sanitizer, work gloves, and specific tools applicable to the tasks outlined in the work plan below (please no power equipment). We will also supply gloves, tools, hand sanitizer, well as sanitation spray for tools.
What to Bring
SAFETY FOR VOLUNTEERS:
Monitor your own health, please cancel if necessary.
Take your temperature before leaving for the event and monitor your health.
Please do not attend if your temperature is above 100.4 F or if you are symptomatic.
Come with your mask on, and be ready to wear it at all times, for the duration of the event.
Bring your own water bottle, snacks, and gloves.
All volunteers must sign up in advance. Attendance will be taken by verbal roll call.
Please maintain +6 feet of distance at all times.
Please don't share tools.
Bathrooms may not be available for use, plan accordingly.
ALSO PROVIDED:
Some non latex gloves, first aid, and extra masks will be available.
Pre-sanitized tool sets will be available for each attendee's personal use.
Answers and guidance will be given from a +6 foot distance from all volunteers.
Forest Steward will be monitoring safety protocols closely, for everyone's safety.
Where to Meet
At the end of the road into the park and baseball fields. Next to map location: 10115 172nd Ave NE, Redmond, WA 98052 (please don't park in the church lots)
Where to Park
In the loop lot at the end of 172nd Ave NE or alongside the baseball fields.