Smith Woods - President's Day Work Party02/16/2020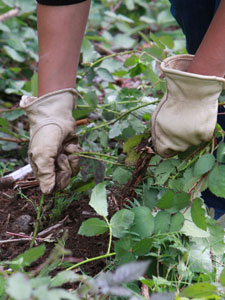 Activities
Winter is the best and easiest time to remove blackberries. Join us for a few hours of community betterment and free exercise cutting down and pulling out invasive plants, i.e. blackberry bushes in Smith Woods! Lots for everyone to do! This is a great opportunity for students needing to complete community service hours. Party rain or shine. All ages welcome.
Open to the public
All ages OK
20 out of 20 volunteers registered.
What to Bring
Please bring water and a snack for yourself and be sure to wear weather appropriate gear. You may also bring your favorite gloves and lopers/pruners if you'd like. If you are under 18 years old, please print and bring the youth waiver with you to the park.
Where to Meet
Park Address: 177th Court NE and NE 122nd Street, Redmond, WA (Please use this address to locate the park. Address online may take you to a different location.)
* Meet at Smith Woods sign on NE 122nd Street between 176th Ave NE and 178th PL NE
Where to Park
Park along 122nd Street NE and in the neighborhood