Arthur Johnson Park - MLK Day of Service ...01/20/2020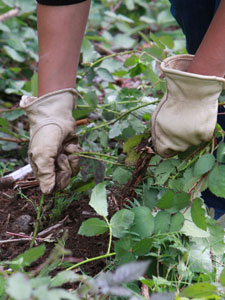 Activities
Have fun, do good, and get involved with the Green Redmond Partnership! Join our Forest Steward at Arthur Johnson Park for a fun morning alongside your friends, burn some calories, and help keep our forests green and healthy! We'll be removing invasive weeds to make room for trees and native plants to thrive.

Everyone can help! All ages are welcome and no experience is necessary. We will provide all of the tools and training needed. Friends and family members are welcome, but please RSVP in advance to help us plan for a great event.
Open to the public
All ages OK
16 out of 30 volunteers registered.
What to Bring
What to Bring: A water bottle, a snack if you want one, tough clothes, and shoes that can get dirty (because they will). Please wear long pants and a long-sleeved shirt to protect against prickly blackberry. Closed-toed shoes are required: work boots, hiking boots, or running shoes are all fine. Remember to check the weather and bring appropriate layers, and rain gear as needed.
Where to Meet
We will be meeting at the main entrance to Arthur Johnson at 9am for a quick introduction and tool pickup. After that we will be working on the far corner of the park off of 196th across the meadow.
Where to Park
Unfortunately with the past flooding and current snow melt our usual parking area is too soft to park cars. Please park in the wide shoulder next to the park on Union Hill near the roundabout and in the parking spots next to the roundabout on 196th. If you park on Union Hill please keep an extra eye out for cars as you exit and enter the park.
Date & Time
January 20, 2020 9am - 12pm
Contact
Sarah Fisher
sajafisher@gmail.com
If you cannot find the park or have other questions please contact Forest Steward Sarah at 425.260.2591.
Extra Info
View
Site Map